What does you animal say?
Is my cat
happy?

Why does my horse

react

like this?

Is my dog

hurting?

Can I get in touch with my deceased animal?
These questions and more are often asked at the Animal Soul Academy.
I'd also like to answer your questions because of
affection both for you and your animal

and therefore give you energetic support.
Optimal and Mutual UNDERSTANDING
Animal Communication and Healing is for peace, understanding, warmth and safety. It will remove burdening energy so that body and mind get back into harmony.
Animal Communication and Healing gives
answers

to:
Why is my animal

FRIGHTENED

? Is my animal scared?
Why does my

cat not use the litter box

? It really stinks in the house ...
Why is my horse or dog

LAME

? It's been ages since I rode him.
Why is my dog, cat of horse

AGGRESSIVE

towards others and how can I resolve this?
Why does my animal

NOT GET BETTER

, we have tried all sorts.
Why

can't he/she be ON ITS OWN,

how can I help my animal?
Why does my

parrot pick his feathers out

, it's heartbreaking to watch.
Why does my

chinchilla bite

? I can't cuddle him anymore.
Why does my

rabbit sits on his own

? What's wrong and what can I do to help?
My animal is sick but I don't know

WHEN AND HOW TO LET GO

?
I've been

feeling so miserable since my ANIMAL'S PASSING

...
All kind of concerns about your animal will be answered, treated and guided!
An immediate SOLUTION will be given with

PHYSICAL

,

SPIRITUAL

and

BEHAVIOURAL

CHALLENGES.
I have great admiration for the way Mirjam knows how to translate the feelings of animals!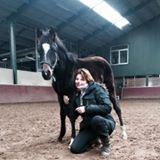 What does Animal Communication and Healing consist of?
Animal Communication is a non physical connection with the animal's energy. It is the energy within and around us that we connect to. The energy surrounding your animal is called "aura" and the energetic points in the body are called your chakras. (Sub)consciously we store energy in our chakras. By connecting to the core being and pure energy of the animal, I receive signals, images and words. The right frequency and vibration creates mutual connection.
My clairvoyant, clairsentient, clairaudient and claircognizant powers allow me to understand this energetic language and to create a connection between animal and owner. In this way an invisible but strongly tangible energetic flow is formed. Energy flows are repaired, calmness is created in the body and physical problems are resolved.
Bink
It was as if a lot of baggage was let go off after Mirjam's reading. She was happy and joyful again. So good!!!
The power of Animal Communication
The connection with animals is mutual. On the one hand we can listen to what the animals want to tell us and on the other hand we can support the animals in what they need.
Animals mirror us. Animals often show us what we very often do not want to see. They invite us to really connect to ourselves, to give us insight into our problems and to show us how our behaviour influences our surroundings. Animals ask us to live in the presence and connect and to take responsibility for the steps that we (have to) take.
We do not just help our animals this way, but also ourselves!
Your animal did not come into your life for no reason. They support you in your sorrow but also give you a zest for life. They make you responsible for their care and are a MIRROR in your personal development. They are even capable of releasing emotional and physical pain in humans. And all of that because they want to give you unconditional love.
After talking with Mirjam on Skype, it was just as if the doors to my life's plans were opened. I've been given so much insight that I feel in good spirit to continue on my path. This has had a visible effect on Bram's behavior. Bram is not difficult or irritating anymore!
85% of animals treated have already been helped!
Worldwide coverage
You can request an Animal Communication and Healing from all around the world. It doesn't matter whether you live in Australia, South-Africa, Belgium, The Netherlands or anywhere in the world. I connect to the Universal energy around us and read the animal's energy using a photo.
All animals are eligible for an Animal Reading and Healing.
My experience ranges from HORSES, DOGS, FELINES, DONKEYS, CAVIAS, COWS, CHICKENS, CHINCHILLAS, RABBITS to BIRDS. The insights into the soul and the healing energy that can be passed on are universal and flow where necessary to your animal.
Experience from 2002
In the past 13 years I've delighted hundreds of animals and owners and helped bring them closer together. Sick (and even terminally ill declared) animals have been cured.
As a medium, a connection is made with the (deceased) animals. This may be a release for emotional suppression, releasing tears and healing the heart.
Netty
The sorrow was immense with the PASSING of our cat but your soothing guidance was GREAT and we have been able to deal with our loss. Grateful!!!
Are your questions more extensive and would you like an

in-depth session

?

Click your possibility below: