Coaching with Horses is about awareness, reflection, growth and transformation
Horses have an amazing ability to pick up our true emotions and reflect our behaviour and acts. It's like a lively mirror that shows us who we really are, from within. They (re)connect us to our soul, potentials and of course they reflect our weak spots. Therefor we learn more to understand how we interact socially in groups or within a relationship, how to set boundaries in our professional and private life and the way we communicate with our body and how that's presented externally.
Horses act without ego and tune into our blind spot or physical challenges at the moment we meet them. Life Coaching doesn't mean you need to have riding skills or knowledge of horses. See them as the dolphins in the sea who heal and help people during a therapy.
Together with soul connector and healer Mirjam, the horses and her other pets let you grow and master your mind, body and soul.
It's all about YOU! From mind to heart to soul!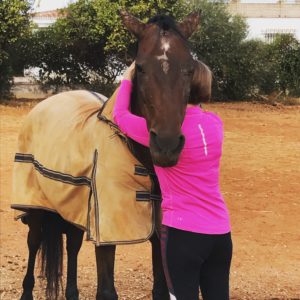 IMG_E2686
IMG_4189
coaching met paarden april 2019
IMG_1332
5b73daa0-e431-4ab0-9389-df5ce4946f5d
IMG_1453
IMG_1460
IMG_1471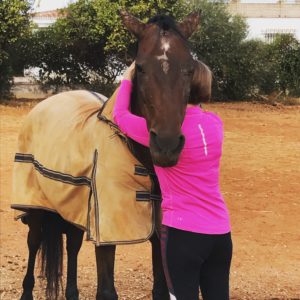 IMG_0468
Examples of challenges:
During the sessions with Mirjam I made great progress in my own spiritual development.
Have learned to stay better connected to myself and not to get angry or emotional when I get challenged in certain situations.
It was great to clearly focus on my vision with a likeminded person and to get direction.
To also put down a focal point for my private and business life and to get energy for gain rather than to restrain, restrict or stop me.
I feel literally stronger and more grounded.
Mark Davids, banker and father
A little bit skeptical yet curious I decided to go for a session with Mirjam and her horses. I'm rather down to earth, always have explanations for, why certain things happen, and I'm even a little bit scared of horses. It's amazing how quickly and easily Mirjam makes you feel at ease but even more so, how quickly you see things in a new light that immediately make you start to think. Thoughts and feelings have to be balanced and unknowingly we don't balance enough. It's really brought me a lot both privately as well as in my business environment and I would certainly recommend it. The combination of Mirjam and her horses is the power that makes it so special.
Susanna, independent and mother
Spiritual insights
For many years I've been building and creating a loving place for animal/ nature lovers and high sensitive people. I've developed my clairvoyant gift in many ways. A place where soul mates meet and share their deepest feelings in a compassionate way. My horses, dogs, cats and wild animals are my spiritual helpers but also the energy on my land help people to ground, transform and feel safe. A lot of magic is happening here in Andalucia!
It's my passion to provide more clarity, enlightenment and more love in your life!
Since 2007 I, Mirjam Diepenbrock, have lived in Alhaurin el Grande on the countryside of the Costa del Sol. It is situated at the foot of the mountains of the Sierra de Mijas and is about twenty minutes drive from Malaga city and airport.
Sessions to choose from:
An individual session is based upon an introduction reading (a soul to soul connection), a meeting with the horses, an introspective awakening and a handful of love. Ofcourse I offer you a refreshing and/or warm drink.
A couple's therapy is based upon an introduction reading (using my clairvoyant skills) of both partners, meeting the horses, a challenge set up with the horses and lots of insights for the growth as an individual and as a couple. I offer a warm and/or refreshing drink.
A day retreat is based upon a thoroughly soul reading (an clairvoyant insight) together with a meditation where dogs and cats can join in too. We practice light tai chi movements in the same area where the horses are and an aura healing on a comfortable massage bed. It's especially for those who are longing for making the next step in life. You want to grow in your spiritual awareness and you are ready for that next level in life. You can do this 1-on-1 or with a friend or partner.
If you can't change your environment, change your way of living!